The Cyber Security Command and Control Platform
With Jellyfish® organisations can achieve precision control over vulnerabilities. The holistic interface aggregates numerous security services and products to provide full Credential Management alongside Identity and Access Management.
Jellyfish® is an innovative cyber security platform offering single pane of glass visibility. Jellyfish unifies existing architectures to create a secure ecosystem across your organisation. As your security requirements grow, Jellyfish evolves, future-proofing your organisation.
Jellyfish is a fully integrated Cyber Security Command and Control System that gives you a number of base security services all in one single glass pane. With Jellyfish one interface connects disparate components such as IdaM, PKI, OTP, SSO, Password Management, LACS, PACS, LDAP, DB, MDM, Monitoring and Audit.
Full Credential, Identity, and Access Management
Jellyfish creates granular visibility through its single pane of glass interface. Using Jellyfish, organisations are given the tools they need to make better access control decisions and spot vulnerabilities. Jellyfish's aggregation of Identity and Access Management and full Credential Management addresses mission-critical needs regarding access and provides organisations with the secure resources needed for agility undertaking new initiatives.
Modular, Agile, and Integrated
Jellyfish is purpose-built to handle complexity. Designed as an integrated, cohesive stack, Jellyfish can evolve with your security requirements. Each module is created with connectivity and emerging technologies in mind. Jellyfish is the ultimate agile cyber-security platform.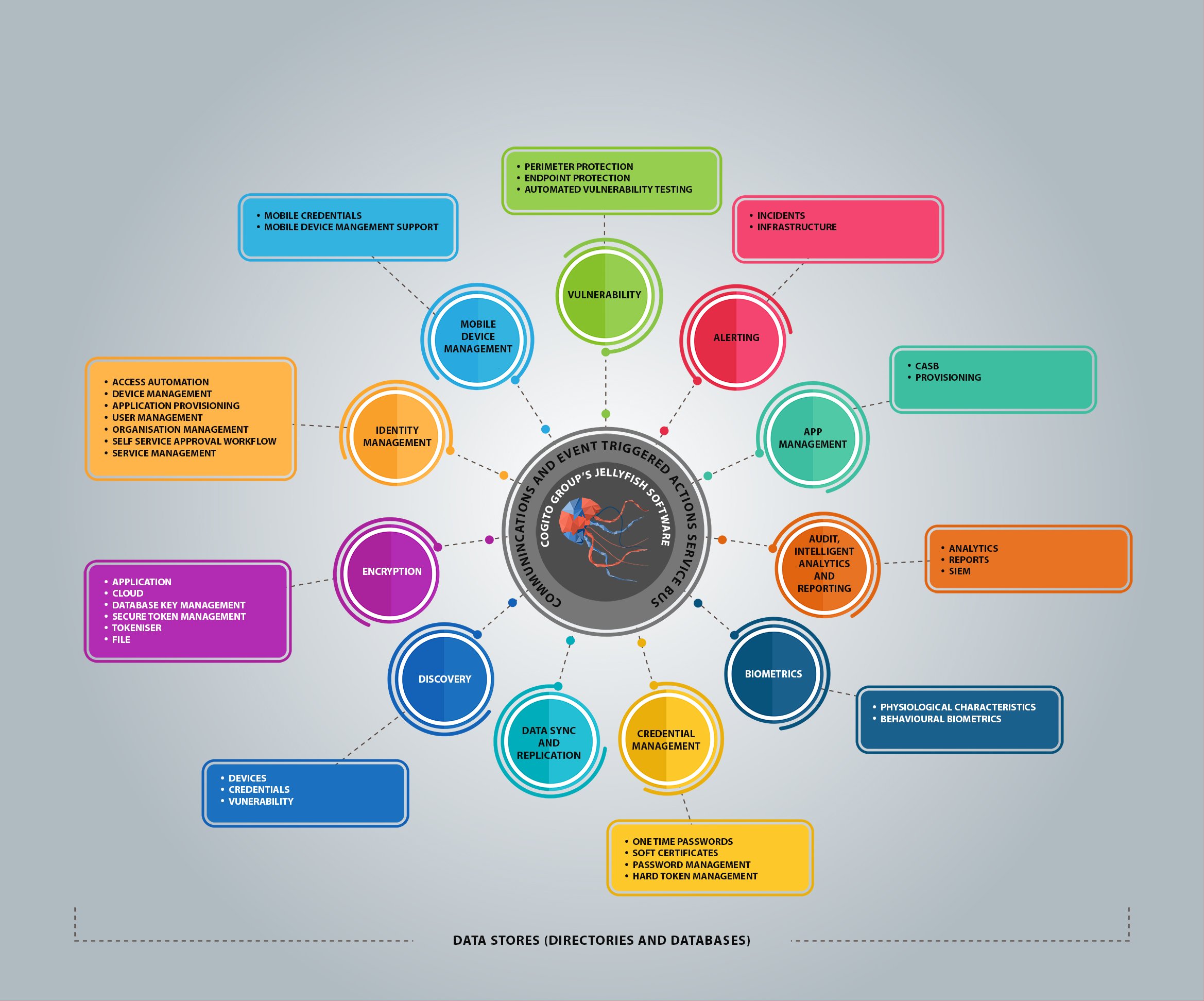 Technical Landscape is one of Change
Growth in Connection to Digital Services
Access to Data Day and Night From Anywhere in the World
Our Solution is Jellyfish